PREMIER League footballer Jeff Schlupp had a miracle escape when his £190,000 Lamborghini spun off a motorway into a tree but he just shrugged: "Oh Well, I've got three other cars to choose from."
The 23-years-old defender of title winners Leicester City last season amazingly escaped without a scratch after his black Lamborghini super car skidded off the M1 and smashed into a tree on the embankment.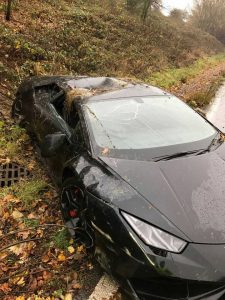 Schlupp, was driving to training in heavy rain on Monday morning as parts of the UK were battered by Storm Angus.
The £12m rated ace was unhurt however despite the roof of the car caving in and banging his head into the windscreen as his expensive motor was spun round on impact.
Ambulances and police raced to the scene on the northbound carriageway of the M1 near Lutterworth, Leicester. Afterwards Schlupp did not need medical treatment.
After the emergency services left, the Ghanaian international talked to the recovery men who were clearing up after the crash, which didn't involve any other vehicle.
And Schlupp, wearing a track suit and black hoodie was heard to making light of the accident as he joked with them.
Another motorist who pulled up at the scene said: "It was raining like hell and the road was very slippy.
"He was very lucky to have not been badly hurt or even killed.
"You could see the dent in the car is where his head would've been. Anyone taller I think would have copped it.
Story credit The Sun